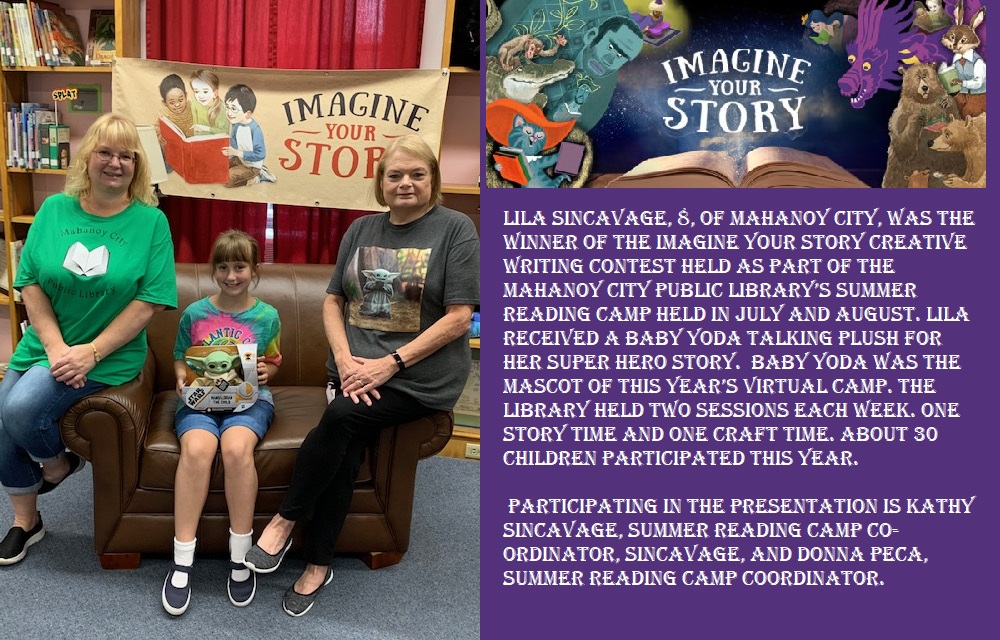 Internet Access

Ten computers with printing capability are available for the public. Use your library card and follow rules for use of the library computers or use our wireless connection on your own computer.
Other Services
Laminating, Photocopying, Faxing, & Printing available at a small fee.
Library Tours for:
Mahanoy Area School District Students
All Local Boy and Girl Scout Troops
Child Development Students
Please contact the library to set up a tour for your group.
Free Library Knitting Club
Presently meets at the Senior Citizen Center in Mahanoy City (Contact library for details)
Community work credits can be achieved for school students and boy and girl scout organizations by volunteering at our library.
Inter-library Loan Program
If we do not carry a book you would like to read in our collection, you can request it from another library in the state through the Inter-library Loan (ILL) system which connects libraries, including those of schools, colleges, universities and public libraries all across the state of Pennsylvania.
You must maintain a valid library card with our library. Then all you need to do is fill out a simple form listing the author and title. We will do our best to locate the book at another state library within two to three weeks. Books cannot be acquired through ILL until they have been on a library's shelf for six months.
ILL books are delivered to the Mahanoy City Public Library every Thursday. You pick your book up at the front desk and return it here on the due date. ILL Books must be renewed at least three days before the due date.